Reading Room
July 13th. 2008, 6:02pm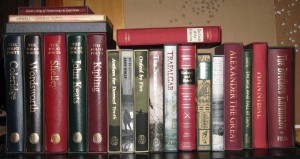 The Folio Society had a discount sale recently and I couldn't resist adding a few more books to the library. The Brothers Karamazoz I had to get. A small edition of Blake's Songs of Innocence & of Experience. It's about 4×6 inches and has prints of Blake's original colored plates for each poem. It is delightful. Einstein's Relativity is a surprise, but it was inexpensive and I hope to delve into it sometime soon. The picture shows some of my Folio books. (click for a full size Hi-res image) I fear there will be more before too long.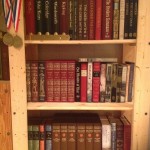 Update (2/28/2013): Got all the Folio books in one place. Due to space and desire to keep my loving partner, I am limited to 3 and a half of these book shelves. Half-price Books probably made a tidy sum off me, but I hope my loss is someone else's gain. I divested myself of many, many boxes of books and kept the makings of a well rounded library with the Harvard Classics, Britannica Great Book series, the Encyclopedia of Philosophy, Various dictionaries/references, and the complete Aubrey & Maturin series by Patrick O'Brian.
The other bookcases hold my military history, strategy, combat psychology and weapon craft works. With limited space I have to be rather selective as to what to keep. I'm starting to use that strange and wondrous thing,
the library
, more. The Kindle and iPad give me some much needed flexibility too. Electronic hoarding, so far, not been made a recognized diagnosis.
(Click on thumbnails for higher res images)
Leave a Reply