Armed Citizen
August 4th. 2008, 11:13pm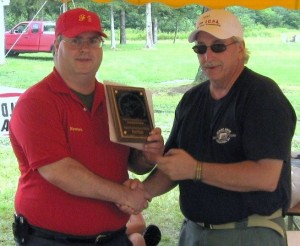 Saturday started out pretty dreary, but I headed down to Morgantown, WV to compete in the International Defensive Pistol Association (IDPA) West Virginia Championship. It had stormed off and on overnight and anyone who has ever set up a match knows how the weather can really muck up the best laid plans. I pulled into the Mason-Dixon Rifle Club wondering not only if I was going to need a rain jacket, but maybe waders too. The M.D.R.C. is kind of my home club and I know what water can do to the shooting bays. Lew Soccorsi is the President of the Club and coordinates the IDPA events. He and his crew worked tirelessly preparing for this event and it was evident that Lew had all his ducks in a row. This was their second time hosting the WV State Championship in as many years and Lew doesn't leave anything to chance. The shooting bays were in great shape and we were lucky that we only suffered some light rain off and on throughout the morning hours. The schedule said shooting would start at 0800 and you know what? I do believe I heard rounds going down range at 0759. Getting started on time has a big psychological effect on folks. It told me we were going to have another well run match. There were 10 stages of fire spread out over 9 shooting bays including an indoor stage with reduced lighting. There were 10 squads and most squads had 10-11 shooters. RO's shot the match Friday, so I figure close to 130 people participated in this match. I met shooters from South Carolina, Kentucky, Ohio, Maryland, Pennsylvania, and even a few from West Virginia. It's hard to find a friendlier group of people. In IDPA I've found there are only a few degrees of separation  between us all. You talk to a perfect stranger and within a minute or two you both were at a match with so-n-so, who everybody knows.

The stages were fairly straight forward, yet tested a number of essential gun handling skills. There were strong hand and weak hand only strings on one stage and several stages required shooting from unconventional positions such as kneeling, prone and supine. The use of cover was emphasized throughout. There were doors to open and vehicles to shoot around. Targets were standard IDPA and poppers. Many of the paper targets had hard cover areas painted black that attracted a fair number of hits in our squad. This forced me to really concentrate on that front sight.
There were some targets activated by poppers and one interesting mover set off by an electric eye. That was arguably the most challenging stage with a variety of targets and when the mover was triggered it was exposed for what seemed like only a second and a half. Even though you knew it was coming and you could be ready for it, it moved by really quick. I fired 3 rounds and got 2 hits (both down 1).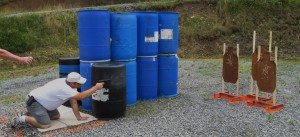 Everyone in my squad was impressed with how smooth everything went and how professional the RO's and volunteers were. They were great! They made sure the shooters experience was the best it could be. They were fair and very helpful. Safety was stressed at all times. We only had one reshoot due to a popup target malfunction. We actually finished almost an hour before the scheduled time and no one was complaining about that. Even the lunch provided was exceptional. A nice catering job. Everyone had plenty to eat and even leftovers during the awards presentations.
The swag bag was decent. A nice T-shirt design and some vendor samples. Springfield Armory donated a couple of XD 9mm's. One was raffled off to raise money for the club and the other was given as a door prize for the RO's. A very considerate gesture to recognize the folks that worked their butts off before, during and after the match. Had I known I could have won an XD (even a 9mm), I might have tried to get into an RO class this year. The prize table was pretty good too. Blackwater and Storm Mountain donated certificates to attend one of their classes and Starline donated gift certificates for some brass. Glock owners were particularly happy to see the number of donated magazines. There were the usual range bags, T-shirts and various vendor items.
Oh, and how did I do? Well, I'm proud that I placed First as Sharpshooter in the Stock Service Revolver division. Revolvers are seriously under represented in IDPA. I shot my stock S&W 686 4″ in a Bladetech Kydex holster. I used Remington 158gr. Lead hollow point +P ammunition that factory specs says would make a 140,620 power factor. Nobody can accuse me of using wimpy loads for an advantage. The spirit of IDPA is to use real world handguns with real world loads. If I can be accused of any 'gaming' it might be the Safariland Comp III's I used. They are big and bulky and I honestly haven't carried them on the street where the Comp II's are hard to beat.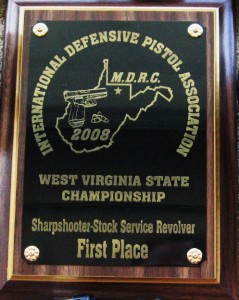 So, it was a fun match and I did pretty good for my ego and have a piece of wood for my wall. I met some interesting people and got to shoot almost 150 rounds in a day. Some may think my expectations are low, but to me it doesn't get much better than that.
If you carry a handgun for defense of self and/or those in your care, then competition like IDPA can only improve your skills.
5 Responses to "West Virginia IDPA Championship"
Leave a Reply