Uncategorized
August 17th. 2008, 8:41pm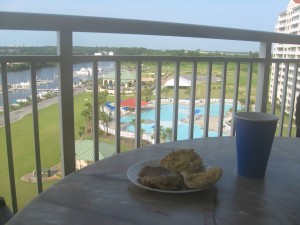 I just spent a week down in North Myrtle Beach seeing my Dad, Stepmom, and Brother. My brother has been going down for years and his in-laws for decades, so they know the area. My Dad lives in Florida and it is a not too inconvenient place for us all to get together. My brother gets a condo on the beach and we got a good deal on a place less than a mile away just behind the House of Blues. Being off the beach means lower prices and less parking hassles. The resort had a shuttle that would take you to the beach or the nearby shopping plaza, which is a nice added service.
Our condo was very nice. Well appointed with washer/dryer, dishwasher, icemaker, and all the kitchenware you needed. We had three bedrooms and each had its own bath and even its own entrance, if you wanted to use it.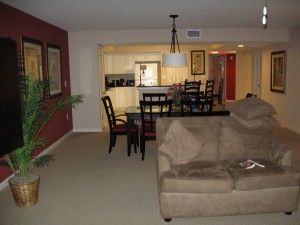 The resort pool was huge and was filled with salt water. Not as salty as the sea, but still salted. It must be cheaper to maintain that way. North Myrtle is family friendly and there were lots of kids and families of all sorts in the pool all day. I would go for a walk in morning up and down the marina and look at the boats and wander around the resort roads. With temperatures in the 90's, it was easy to work up a sweat and I'd hit the pool for a bit to stretch out and cool down. A large hot tub(small hot pool really) was poolside too. Many a golf widow came out early to get some sun, or maybe just to get away from the kids. There was evidence of real money along the quay with some impressive power boats and cabin cruisers. Hummers, vette's and a white Ferrari F430 were regular visitors to the boats. I'm not into golf anymore, so I left that up to my brother and dad. I would venture out to various pawnshops to see what I could see. Evenings we'd play poker with some of the older kids. I lost several dollars in Texas Hold'em due to knowing how to play, which is a severe disadvantage with my family.
There was a jetski outfit on the dock that would lead you out into the Atlantic to see dolphins feeding around the shrimp boats. I had to try it and took my nephew and his fiance too. They rode together on one ski and I was on one by myself. I hadn't been on a jetski before and the guide scared me a little saying we'd have to make 30mph along the waterway to get out to the ocean and the swells would be over 5 foot. His claim of 30mph was a bit off. Once out of the 'no wake' zone of the marina, I was doing 50mph trying to keep up. I learned quickly to use my legs as shock absorbers. I went over some wakes and hit hard a few times. Out in the ocean it was even more fun with the swells. I was airborne a lot going through the surf. It was so much fun I couldn't believe it. We did see a number of dolphins, but it was difficult to take pictures. I had to try to control the jetski with the waves coming at me and then try to focus on the sea creatures who came up when I least expected them. I got a couple of shots of fins. I tell people they were sharks.
Coming back we got to just play with the jetskis. I gave my camera to my nephew to get some action shots of me, but he apparently had problems finding the power button and so there is no evidence of me flying across the waters of the Intercoastal Waterway. I got great pictures of him and his fiance, of coarse.
The week didn't last very long at all and I had to return to my hovel here in Western PA. I look forward to my next visit and can see how it can easily become a tradition for anyone.
One Response to "Myrtle Beach"
Leave a Reply